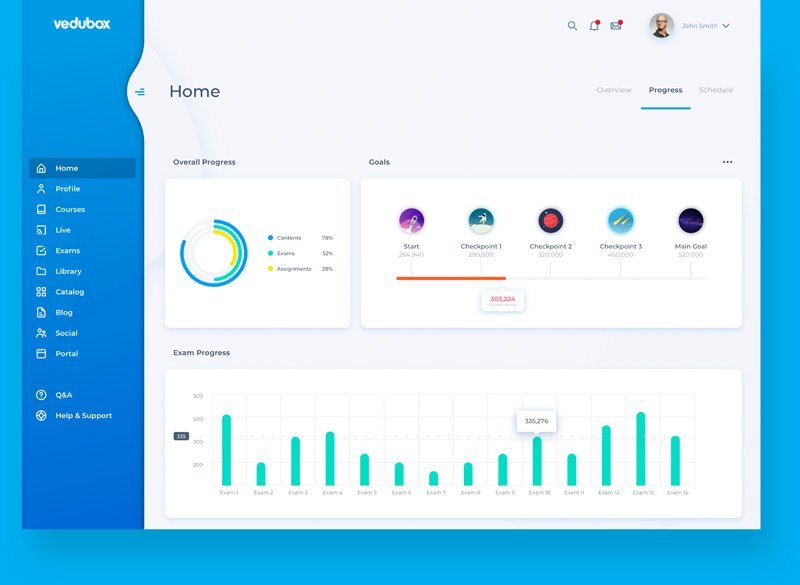 The advantages of Vedubox

and the differences that make it different from its competitors
There are many differences between Vedubox and its competitors in terms of technique and usage.
Vedubox was designed by Turkish engineers to be able to serve the whole world. The most significant advantage of Vedubox is hidden here: With its high technology integrated, safe, economical and scalable technical infrastructure, it achieves to respond to many needs at the same time as a unique and extraordinary option. It has an incredible user experience since many customers have used it for many years.
8 great reasons

to choose Vedubox
Our VEDUBOX online platform continues to be developed continuously to meet your changing and evolving needs. Our customers do not pay extra for these updates.
UNLIMITED CAPACITY

Unlimited capacity with high performance.

NO SERVER COST

There is no need to server reception, update etc.
INTEGRATED SECURITY

Integrated and updated high technologies.

NO INTERNET COST

No server and internet costs

LOWER COSTS

Everything you need on one platform

NO STAFF COST

It does not require the employment of any technical personnel.
It makes a difference with its technical features and service quality
Vedubox offers a unique user experience and integrated features.
For example, compared with the systems sold in the market, the integrated features, which enable the comprehensive service of Vedubox, make the difference. Vedubox offers many features such as online education management, content presentation, live lecture – meeting – webinar, online payment, SMS, e-mail, questionnaire and exam in an integrated way.
With its advanced technology that eliminates the performance problems encountered in many similar products, Vedubox is also an effective product against video and audio shift in recorded videos. Vedubox also empowers your digital communication with screen sharing and interaction features.
High performance, eliminated freezing, sound and image loss problems, simple and user-friendly interface make Vedubox get ahead of its competitors.
Therefore, our system offers a unique user experience for all kinds of institutions/companies/educational institutions and different usage with integrated online education, distance education, distance study, live lecture, seminar, online meeting, video conference features.
Let's list the differences and advantages of Vedubox:
Cloud Technology – Microsoft Azure – Google Cloud
We develop Vedubox by using Microsoft and Google technologies. In this way, thousands of users can use our system without any trouble or speed problem.
Live Lesson / Video Conference / Webinar Quality
In Vedubox, there is live lesson, video conference and webinar module that does not freeze with the participation of a large number of participants in the same session/room and offers a fully interactive study and learning environment.
Unlimited Lessons / Meetings / Webinar
You can create unlimited live lessons/meetings/webinars for each license according to the number of instant licenses/rooms you have taken.
Unlimited Teacher / Moderator
Branch / Unit Manager and System Manager. Users in these roles do not affect your capacity and do not fall out of your quota. You can add as many teachers/moderators/administrators as you want.
Live Lesson / Meeting / Webinar – Virtual Classroom Display, Sound and Recording Quality (Synchronous Lessons)
There is no freezing in your live lessons; you can transmit high-quality images even at average internet speeds. Live lessons are recorded automatically, and there is no audio or video shift in live lesson recordings. We use a patented video compression technology to provide all this!
Ease of Live Lesson – Virtual Classroom
Our virtual classroom is designed for your ease of use. You can directly share any document from your computer without uploading the video to the virtual class, and you can draw on it. In this way, you can provide multiple interactions to your users.
Live Course / Meeting / Webinar Recording with High Capacity
The lowest live lecture/meeting/webinar recording capacity of the system starts from 100 GB, and you can keep the high-quality image in small sizes on your system or computer thanks to the high compression technology. Therefore, each live lecture/video conference/webinar recording takes up a very low space. Besides, you can upgrade these areas for a small fee.
High Storage Areas
In Vedubox Pro version, content (document, video, image etc.) can be loaded into the system (trainings, library etc. modules). We offer each customer sufficient file storage in the system. In overuse, you can upgrade these areas for a small fee.
Creating Unlimited Education Package
You can create unlimited training packages by packing different courses. You can also assign or sell as many different packages to a student as you want. That does not affect the capacity of the system or your cost.
Unlimited Subdomain Redirection 
For your systems, you can personalize your system with a subdomain like online.institutionswebadress, academy.institutionswebadress or meeting.institutionswebadress.
Integrated SMS and E-Mail Sending
You can inform your students about your distance education system via SMS and e-mail. You can remind them by SMS and e-mail before starting the live lesson/meeting. Our system works integrated with www.netgsm.com.tr. You can enrol in NETGSM with 'Etgi Grup' code, and you can use the SMS packages you have received via Vedubox.
Easy-to-use and straightforward Modern Interface
Your students, users, teachers and other users are not lost in the system and can easily use the system.
Yearlong Support and System Training
You can get e-mail, telephone and video conferencing support service from our technical team throughout the year. We are always with you.
Continuously Developed Software Infrastructure and Compatibility with Latest Technologies
Our team of expert engineers is continually improving our system by following the latest technologies. We make our software outstanding by cooperating with giant companies on technology.
Unique Features
Vedubox includes many unique features such as interactive video, smart content management, sequential content management.
Advanced Reporting and Analysis
You can get detailed reports about your training/live lessons/meetings and online sales and also analyze your data.
Automatic System Requiring Minimum Human Resources
Many operations that are performed manually in other systems and that require time and money costs are made automatically in Vedubox.
Modular and Integrated System
Many modules and features in Vedubox work integrated. A student can watch your videos, attend live classes and take exams with a single username.
Access from Mobile Devices and Tablets
You can use Vedubox seamlessly from your Android and IOS devices. We recommend the use of Google Chrome.
Integrated Online Payment – e-Commerce / Sales Module
Thanks to the e-Commerce Module within our system offered as optional, you can create an online sales portal similar to UDEMY. You can also sell as many different packages to a user as you want. That does not affect the capacity of the system or your cost. Your users can access the system after making their payments. You can also get reporting on your sales.
Integrated Support Feature
Thanks to the support module in the system; you can give your users direct support, and thus you can reduce your phone traffic and workload.
Meet the

new online education

concept
Easy, fast and flexible solution for your distance education needs.